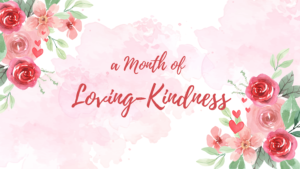 "Finally, all of you, have unity of mind, sympathy, brotherly love, a tender heart, and a humble mind. Do not repay evil for evil or reviling for reviling, but on the contrary, bless, for to this you were called, that you may obtain a blessing." 1 Peter 3:8-9
This month's devotional is inspired by an unexpected experience I had this past Sunday when I received an invitation from a friend to attend the first in a series of Sunday Morning Mindfulness Meditations (by InsideOut Studio in Toronto). The theme for Week 1 was "Loving Kindness" and the experience was so profound that it moved me to tears. 
Throughout the guided visualization, we were asked to recall a time and/or think of people with whom we had shared certain experiences… some positive and some not… and extend to each of them the following "blessings":
May you have abundance.
May you be safe.
May you have light.
May you live with ease.
Apart from how they affected me at that moment, these simple phrases really stuck with me throughout the day. There is such power in their simplicity and in their ability to touch on (and even heal) forgotten memories and to evoke deep and heartfelt feelings of fondness, compassion, caring, and forgiveness.  
I'm sure I don't have to remind anyone how difficult the past two years have been. We're all exhausted and just trying to get through it the best way we can. But, the truth is, as we stretch ourselves to the limits of our capacity to cope with the absurdity of our current situation, these strategies might be harming us more than helping. Many of us have started to slowly shut down some vital parts of our humanity. Some of us don't even realize it's happening. 
Which is why this simple visualization was such a gift.
It unlocked a guarded place within my heart.
It reminded me that I'm not always right.
It reminded me that I haven't really laughed (like,
really
laughed) in a while.
It reminded me how far a little kindness goes.
It reminded me that love
really does
heal all things when we practice it the way God intended.
As children of God, we are designed for Love to be the natural state of our being; naturally at peace, naturally connected, naturally protected. Becoming more loving is becoming more of who He created us to be.
So, as the month of February approaches, amidst all of the Valentine's Day advertisements for cards and chocolates, why not use these as reminders to invest in this practice of loving-kindness?
After all, what better gift can we give to ourselves, others, and the world? 
So, here are some ideas to get you started:
Spend time each day exploring your inner and outer worlds within the context of a kind and loving heart. What might be different if you had a more loving approach?

The practice of loving-kindness is pure and unconditional, without the expectation of anything in return. Become a source of generosity and selfless care to others. 

Resist the tendency to withdraw from others or from social situations. "Cultivating closeness and warmth [with]/for others automatically puts the mind at ease", says the Dalai Lama.

Learn to extend loving-kindness to those who are hard to love or easy to judge (the stranger who cuts us off in traffic; our horrible ex; the nasty neighbor; people who disagree with us about Covid). 

Offer loving-kindness to your

own

"inner critic".
And finally, let's remember that this practice may take some time for it to feel authentic. At first, it may even be awkward or messy, but I assure you, once you lower your resistance and lean into it, you will come to appreciate what a profound transformation it can bring. 
Until next time, I offer you the following blessings:
May you have abundance.
May you be safe.
May you have light.
May you live with ease.
How do you intend to practice loving-kindness today?
As for me, I'm excited to join the Mindful Meditation Community every Sunday at 8:15 and I'd love to share it with you! As a special treat, I've managed to get a copy of Sunday's Loving-Kindness Meditation from InsideOut! Feel free to check it out here.
Many blessings for a more loving month ahead!
Tracy
As a minister, counselor and mentor, I'm happy to receive feedback or answer any questions about what is covered in this post. You may contact me at tracy@tracybrichards.com.